If the human race had the power to negatively intervene in its environment, why shouldn't it have the power to reverse its actions?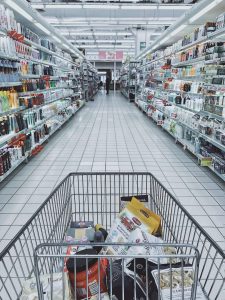 Buying products for our home, for the purpose of feeding and consuming them, is imperative to be balanced. In other words, it must serve our needs precisely.
Buying what we need for our table is not a sign of poverty, it is a sign of respect for food. We pass on smart food consumption and purchase and we become a role model for others, especially our children, who will grow up to embrace our smart food consumption, with beneficial results. We respect our planet and our fellow human beings.
Today, unfortunately, as a totally consumerist society, we waste millions of tonnes of food, while a large proportion of the planet does not even have enough to live on, let alone eat.
In addition to the serious economic impact of buying and wasting food and money, and the social impact, food waste causes, above all, a huge environmental problem.
Hundreds of millions of people around the world do not have stable access to food.
Whether the Earth can sustain the continued waste of resources is a question for which we all know the answer.
What is happening in Cyprus
Wasted food means wasted resources. The partnership of the "FoodPrint" campaign, with the slogan "no more food waste", consisting of the "Zeus" Group, OEB, the Department of Environment, Friends of the Earth and the environmental consultants "Parponas – Sustainability" and the communication consultants "Opinion and Action", prepared a survey and according to its results, in Cyprus the average household throws away 23% of its weekly purchases of food, vegetables and fruits. While, for example, fruits that have ripened beyond normal could be used to make jam, or become a delicious dessert.
– At the same time, in Cyprus 52.7% consider it very important to reduce food waste in order to protect the environment.
– 73% buy more than the necessary quantities of food.
– 85% of households say that when they prepare or order food, there are leftovers.
– The average household throws away 23% of their weekly food, vegetable and fruit purchases.
– When Cypriots throw food and groceries in the trash, they mainly feel (a) remorse (56%) and (b) that they have wasted their money unnecessarily (46%). The feeling that this act damages the environment is less pervasive (30%).
– Seven out of ten consumers tend to buy more food than necessary. Most households have surplus food that is not consumed. In two out of ten households this happens most of the time, and in almost seven out of ten, sometimes. Only 14% of households almost never have food left over.
– Two thirds consume the leftover food on the following days, while a third tend to give the leftover food to pets.
– More rarely is leftover food used for composting (9%). One in six, quite often or always, throws away leftover food in the garbage.
– The environment is on the minds of only 3 in 10 consumers.
– 2 out of 10 throw away food for no particular reason, mainly because they are used to it.
We can change tomorrow…
So it's important to stock up on what we really need and not on unnecessary products that end up in the bin at the end of the day.
The scientific premise is that human actions/activities can, and have, changed the living organism of the Earth forever.
It is extremely important for all of us to use human power and wisdom for the good, the well-being of the environment and of course for our own survival and prosperity, as we depend solely on the environment and it is what we will pass on to our children.