Secrets from the President of the Ecologists-Civic Co-operation, Charalambos Theopeptou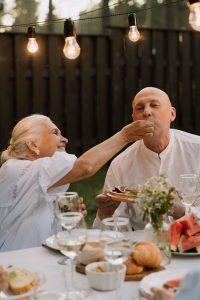 The environment and its protection is the most important issue in recent years for the sustainability of humanity.
The European institutions and each Member State are attempting to take measures, even if only at the last minute, to reduce food waste/household waste.
Speaking to "Simerinis tis Kyriaki", the President of the Ecologists' Movement – Citizens' Co-operation, MP Haralambos Theopeptou, referred to the first time he had to cook food when he was a student in London and found himself alone for the first time due to his studies, revealing little secrets that helped him on his way to saving food.
After a few disasters, I managed to cook food that was edible, after a while I got used to it, but I always cooked too much food for one person, he said.
Returning for a holiday the first time to Cyprus, Haralambos Theopeptos' mother asked him if he learned to cook. His answer was "yes, I learned to cook basic things, but my problem is that, apart from being tasteless, I cook much more than I can eat".
As he said, his mother was not only an excellent cook, but she also knew how to use leftover food.
Appropriate portions of food
"She gave me a coffee cup to use for measuring and explained how to measure food with it and how to use my hands for the right amount of portions, and that's what I do to this day by ensuring the right amounts.
Many years later, whenever we have a discussion about reducing food waste, one of the issues that always comes up is cooking the right amount and reusing leftovers, the MP explained."
Many years later, whenever we have a discussion about reducing food waste, one of the issues that always comes up is cooking the right amount and reusing leftovers, the MP explained.
He said that when food waste or other biodegradable kitchen scraps are buried in a landfill, after a while various gases are emitted, but mainly methane, which is a potent greenhouse gas.
Reducing methane emissions
"This is the gas for which a COP26 decision was recently taken to reduce methane emissions. To achieve this, we first need to reduce food waste and prevent biodegradable waste from being buried in landfills. We therefore need to collect food waste separately and process it in order to produce biogas (and thus energy) and/or compost."
Another issue mostly faced by those who live alone is the fact that many products cannot be bought in small quantities, as there is usually a lot of family packaging. A good example is that sometimes one cannot buy a small loaf of bread or even a small size of sliced bread, Mr Theopeptou added.
What he advises
According to the President of the Ecologists, a good habit is to always plan ahead to have a shopping list so that you avoid buying far more things than you need. "In a well-planned city, you will find small shopping areas very close to residential areas so that people can shop without needing a car. This offers an added advantage of shopping in small quantities to ensure you always have fresh produce and avoid waste.
Food can also spoil when the fridge has trouble maintaining the right temperature (e.g. the door cannot close properly) or when owners set this temperature incorrectly. The temperature in the fridge should be less than 6 degrees Celsius and, if you measure it, you will also find a difference in temperatures between shelves. Food in the freezer should be kept at -18 degrees.
Finally, the government should help the hotel and catering industry to be able to handle food scraps that are still in good condition for the benefit of the poor and also for the climate. In some countries there is also legislation allowing the resale of expired products under certain conditions," he said.
It is also important to ensure that all expired food products from shops, food that cannot be used by the hotel and catering industry, as well as from homes, are collected separately and sent to composting plants to produce energy and compost.
This is one of the main objectives of the 'Pay as I Throw' scheme, which we hope to have legislation passed in 2022, concluded Theopeptou.
(published in "Simeriya tis Kyriaki", 09/01/2022)