88 million tons of food waste are produced every year in Europe – In Cyprus this number, unfortunately, amounts to 155,000 tons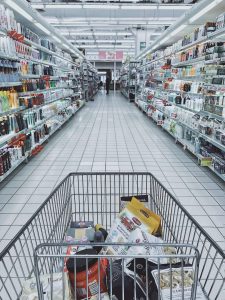 The greatest tragedy in humanity is malnutrition, while tens of millions of citizens live in affluence, overconsumption and unnecessary food waste, resulting in tens of tons of food ending up in the garbage, with devastating consequences for the planet and health.
According to data from the website https://www.worldometers.info/gr/, last Thursday, 6/5/21, at 12.00 p.m., there were 851,594,444 undernourished people in the world and 17,820 people died of hunger on the same day and time.
Awareness of food waste may have increased, but more needs to be done immediately to turn this awareness into action.
Most tragically, hundreds of millions of people around the world lack consistent access to food and millions of tonnes of food end up in the trash, making food waste one of the most serious modern environmental and economic problems.
48 million Europeans do not have access to food
food every other day
According to figures recorded by the FoodPrint campaign partnership "End Food Waste", which is made up of the Zeus Group, the OEB, the Department of Environment, Friends of the Earth, the environmental consultants Parponas – Sustainability and the communication consultants Opinion and Action, thousands of people around the world lose their lives every day to malnutrition, while 48 million Europeans are losing their food every day. Europeans go without food every other day, while globally 1.9 billion tonnes of food are lost every day.
It would be a blessing if we donated our leftover food to someone in need or fed it to animals.
Third worst place in Europe for Cyprus
Unfortunately, in Cyprus, the problem is huge, we waste twice as much food per person compared to the rest of Europe and we rank third worst in Europe. Every year 88 million tonnes of food waste are produced in Europe and in Cyprus this number, unfortunately, amounts to 155,000 tonnes.
Apart from the humanitarian issue, at the same time a serious problem arises for our health through the destruction of the environment, since food waste causes a huge environmental problem. In Cyprus, 52.7% consider it very important to reduce food waste in order to protect the environment, so it is important to always stock up on what we really need and not on unnecessary products, which at the end of the day end up in the rubbish bin.
Speaking to the Sunday "Simerineri" (S) newspaper, the responsible officer of the "Friends of the Earth Cyprus" organisation, Natasha Ioannou, said that on the part of her organisation, actions are being taken and humanity initiatives are being taken so that food is donated by citizens who wish to do so for safe disposal.
The legislative framework is necessary
We need a legislative framework and regulation for food donation to ensure that as many people as possible are fed who need it, Ms Ioannou said.
She explained that at the moment donations are being made, but there is no legal framework so that restaurants and businesses can offer the food they have left over instead of it ending up in the garbage. Something that happens in other European countries by law, for example in France.
We are currently 'running' the 'Life FoodPrint' platform, where the user can register and indicate if they wish that they can provide food or even be a recipient of free food. He or she is then contacted by our organization's team for the procedures to find a way to make the food he or she provides available or to secure food for him or her, he added.
According to the responsible officer of the "Friends of the Earth" organisation, there is a European directive around this issue, but unfortunately in Cyprus, it is still in the drawers. For this reason, she concluded, "there is daily pressure for the implementation of legislation or regulation that will put an end to food waste."