S.M. Vryonidou: By registering on the "LIFE FOODPrint" social food donation platform we can help reduce food waste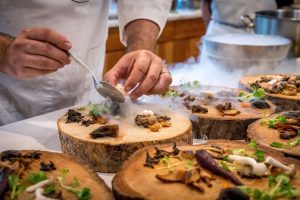 Everything would be different if people would help their fellow human beings more and love and respect the environment we live in more.
A survey conducted in Cyprus in 2020 as part of the LIFE-foodprint campaign called "End Food Waste", which aims to reduce household waste, showed that we waste twice as much food per person as the rest of Europe and that we are the third worst in Europe.
Unfortunately, 88 million tonnes of food waste are produced every year in Europe and in Cyprus this figure is 155,000 tonnes, while hundreds of millions of people around the world do not have stable access to food.
According to the results of the survey, 85% of households on our island state that when preparing or ordering food, there are leftovers. At the same time, in addition to the damage we do to our pockets, leftovers cause a huge environmental problem. However, in Cyprus, 52.7% consider it very important to reduce food waste in order to protect the environment. Based on this data, it is very important to stock up on what we really need and not on unnecessary products that end up in the waste bin at the end of the day.
What would happen if we didn't…
Millions of people die of hunger every day and globally, 1.9 billion tonnes of food is lost. The truth is that if we didn't throw away food, we could feed at least 48 million Europeans who go without food every other day.
The value of giving food to someone in need or to feed animals is immeasurable and miraculous.
Friends of the Earth-Cyprus has taken a wonderful action by embracing people who are in a difficult financial situation. They have created LIFE FOODPrint's innovative "Social Food Donation Platform".
Businesses can donate 
Speaking to "Simerinis tis Kyriaki", Friends of the Earth Officer S.M. Vryonidou said that food and food industry businesses that have surplus food can reduce food waste by registering on the "Life FOODPrint" project platform at the link https://foodprintcy.eu/collaboration-platform/el/donor-registration/
He stressed that anyone who has surplus food and food in their business or anywhere else, which they wish to donate to needy families, can do so through the Social Food Donation Partnership Network, namely the Platform.
"If you are a charity that helps socially vulnerable groups, you will be able to become a recipient of food offers from donors from across the food supply chain. In this way, you will save safe-to-eat food and ensure that it reaches the tables of people in need."
Conscious consumers who are concerned about food waste levels can also register on the platform and accept food donations or even donate food themselves through the platform to other people in their community.
You can view the Platform at the link: https://foodprintcy.eu/collaboration-platform/el/
Interested parties can contact Friends of the Earth at ze[email protected] for more information, added Ms. Vryonidou.
What is the bidding process
By signing up on the Platform, all interested parties can save and offer their leftover food to individuals or initiatives in need.
It is worth mentioning that the partnership of the "FoodPrint" campaign with the slogan "No more food waste" consists of the Zeus Group, OEB, the Department of Environment, Friends of the Earth and the environmental consultants PSC and communication consultants Opinion and Action. The actions and objectives of the LIFE FoodPrint project include, among others, surveys, seminars for pupils and students, consultations with businesses, professionals and organised groups, the publication of guidelines and guides, the creation of a network for food supply cooperation and a series of awareness-raising actions regarding the reduction of food waste.